Living in Huntington Beach, CA is a dream. The beaches and endless sunshine are great for fun outdoors. However, for your asphalt or composite roof, the salt, air and humidity of the area can wreak havoc. Moisture, wind and rain can degrade the protective granules and lead to algae growth, making your roof look old.
Composite Roof Cleaning
At Custom Coatings, we offer composite roof cleaning at an affordable rate. Regular cleanings of your asphalt or composite roof will prevent degradation of the granules and the color changes that occur from constant exposure to the sun. It also increases the natural efficiency of the fiberglass and asphalt surface by allowing more heat through. We use eco-friendly cleaning methods to get rid of built up dirt and debris.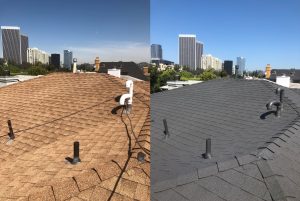 Asphalt & Fiberglass Shingle Restoration
After time, shingles lose their protective coating, allowing moisture to seep in and collect. Fortunately, we offer asphalt and fiberglass shingle restoration in the Huntington Beach area. First, we'll wash your composite shingles with a pressure-washer. Then we use a primer coat for protection and two coats of color, giving your roof the new look that you've not seen since installation.
Our fully licensed and insured staff has over 30 years of experience, and we welcome the opportunity to help you extend the life of your roof and have it looking good as new. To learn more about our services or to schedule an appointment for you roof, contact us today.