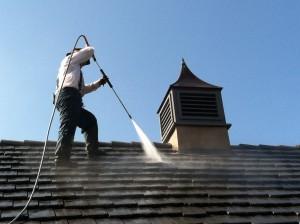 Here at Custom Coatings, our goal is to provide clients with the ultimate in a roof restoration experience. Our twenty years in the industry have made us an innovative, respected name in the San Diego area, and as our client you can expect a fair, cost effective solution to be presented to you by our professional and highly creative team.
It is proven that roof cleanings are essential to extending the life of your roof. At Custom Coatings we will clean, seal, and color match your existing roofing, offering a variety of color options and blending to perfectly match your current tile.
For cleaning and sealing purposes we use a variety of techniques that are 100% ecofriendly. Power and pressure washing, tile sealing and cleaning, and energy saving Cool Roof coatings are just a few of our tried and true application methods.
We also include detailed trim work in our price, ensuring that at projects' end your property looks better than it did to start. Though we are not a roof repair service, our techniques will restore yours to its original glory, offering resilience and restoration that will remain for years to come. Contact us today!